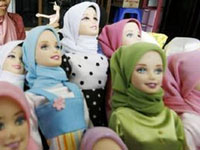 Why didn't I think of that?
A Muslim mom in Indonesia thought the traditional Barbie was showing too much flesh so she created this more modest attire.
Yes, the new repressed Barbies are selling like the proverbial hotcakes. Maybe hotcakes is an inappropriate word to use here.
I'm waiting for berka Barbie! Ken will have complete control over her. Imagine an entire line of "Muslim correct" dolls! We'd have the one-handed thief Ken doll. Do you think the easily removable head is a selling feature in Indonesia?
This demonstrates the opportunities we traditional business thinkers are overlooking.
Chris Reich, Author of TeachU's Business Talk Blog