Business Partnership Advisor
Together, we can fix your business and partnership problems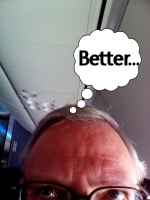 Chris Reich, Business Luminary
What Is Trust in a Partnership?
The word "Trust" means different things to people on different sides of partnership tension. While trust may be at the heart of your issues, be careful about how you express it. It means something different to your partner.
Trust is a tricky and dangerous word loaded with implications. Though it may be at the core of nearly all business partnership issues, we have to be very careful about throwing out a word that is sure to mean different things to each partner. Let's discuss it.
When I get the call from a partner in a business who is looking for advice, the conversation usually revolves around trust. "I just don't trust him anymore," is how it starts. When I ask for some detail, the caller will hedge. "He isn't stealing or doing anything really bad," they'll say, "I just don't know what he's doing sometimes." Going deeper, we'll discuss things like the partner took $100 from the business last week or he signed the business up for an advertising campaign without getting 'permission' from the other partner. If you're reading this, you can probably think of examples where your own partner acted unilaterally.
As the transgressions of the other partner are outlined, the caller will often say that these things aren't really a big deal but I just don't trust him. That IS a big deal.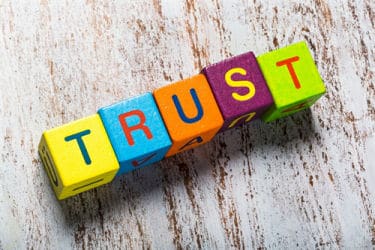 "Trust" is a dangerous word. Be careful when talking about losing trust.
Why Using the Word Trust is Dangerous
So it's true. There is a trust issue. If a partner doesn't know what the other partner is doing, trust will grow fragile. Will he lower the air conditioning setting to 70 degrees despite your desire to keep it at 72 to save money on the power bill? Can you ever turn your back on such a monster?
When we worry about a partner doing something without our consent, there is a problem, to be sure, but the problem is more complex than a loss of trust. Partners can feel cut out from decision making over issues like setting the temperature of the office thermostadt. That could indicate that there is a control issue between the partners.
When we sit down to meet as a group to work things out, we always talk through the issues. As we talk about setting the temperature of the office, it invariably comes out, "I feel like you make decisions without me. I just don't trust you." KABOOM. Now it's personal. In my position, it's best to let this come out so we can address it. I know it's going to be rough-going for a while. After talking out the problem, we can arrive at a Process (one of the pillars I build upon) to correct the issue.
I might propose something like this: How about we agree that the temperature may be set between 70 – 75 degrees by either partner at any time according to need for comfort? I can get reluctant agreement on that. The more rigid partner will want more control and the other partner will want more latitude. In reality, both want the same thing: Control.
This little thing allows me to guide our discussion into the more serious topic of trust. This is where the dynamic often flips on its reverse side. The partner who expressed the trust issue feels better because we have brought some regulation to the problem. But the other partner is hurt because, "I'm really stunned and hurt that you don't trust me when I work so hard for this business."
"When we tell someone that we don't trust them, that has deep implications to the accused. Be careful."
What's Going On
Most of the time, the partner wants to know what's going on in the business and with the other partner. There might be control issues to deal with too. But, most of the time we can fix trust issues by opening up more communication between parts. That can be done with Processes. One process that works is to establish weekly meetings between partners to discuss things that may have come up in the past week. Has money been spent on something other than the regular bills? Talk it through. Is the office uncomfortably warm for the staff? Discuss it. Setting up Processes to deal with tensions works well to prevent future disagreements. The issue of trust must be repaired.
When a partner feels like they aren't trusted, that hurt can do lasting damage. It's essential to talk that through until all parties understand and accept that the problem is more of mechanics than of trust. We need mechanisms to fix communication between partners. It's important that your partner doesn't think you see him as a crook or things will never be the same again. We must talk that issue through until everyone understands that we are working on specifics and not a deep mistrust of each other.
Something else to remember is that no true entrepreneur wants to be held accountable to anyone. If you have the guts to start a business, you are the type of person who understands the need to get permission to change the thermostat setting. That person doesn't like asking permission to take $100 from his own business. And if he does take that $100, he doesn't want to be viewed as a thief.
Keeping permissions, latitude, and trust in balance is a sometimes tricky feat. It can be learned if partners are willing and the advice is good. Being your own boss is one of the perks of owning a business. If your partner becomes your boss, attitude will sink and tension will rise.
Conclusion
Sure, the easy term for what you're feeling may be a loss of trust. But be careful about telling your partner that you don't trust him when all you need is more transparency about what's going on at the business. Create Processes to open communication but avoid rules that require permission on small issues. Big money decisions should always be discussed by all partners. The definition of "big money" can be agreed upon and documented. Partners can draft an MOU stating that all money matters greater than $500 must be decided by all partners.
Issues can be fixed. Never forget that the word 'trust' might have more impact on your partner than you intend.
Chris Reich, TeachU
Do you like FREE services? Contact me now for a 100% confidential and 100% FREE consultation.